One of the most common Spanish expressions is me gusta. You'll use it everyday. Ten cuidado (be careful) though because it does have a red-faced-booby-trap.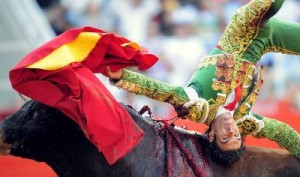 One time I was left blushing when I said, "no me gusta Alejandro Fernández pero me gusta Vicente Fernández."
I thought it was an innocent enough comment about liking father Vicente's music but not his son Alejandro's music.
The amigo I was with, Jose Luis, es bromista, (is a joker) he immediately saw the other meaning and there was no way he'd let me get away with that.
He raised an eyebrow and said, "te GUSTA Vicente Fernández EH!"
Now you probably know, me gusta, as, I like.
You could say, me gusta la comida Española.
Perfecto, no hay problema, they will understand that you like Spanish food.
And if you were to say,
Me gusta vivir en México
Again no hay problema, they'll hear that you like to live in Mexico.
Here's where I came unstuck. Me gusta can literally mean, to me it is pleasing,
So when I said, me gusta Vicente Fernández, I was saying, to me Vicente Fernandez Is pleasing. In other words, I fancy him.
I like his music. I like his manner. I have fond memories of when I went to his concert in a bullring just a few feet away from the US border in Playas de Tijuana, but I don't fancy him.
En cambio. (On the other hand.)
A muchas mujeres mexicanas si les gusta Vicente Fernández
Many Mexican women do fancy Vicente Fernandez,
Vicente is in his 70s now, yet at the show young girls were lining up to give him a rose and a hug. It was like an Elvis concert.
I remember one woman at the concert waved a rose madly for at least 15 minutes but just couldn't get his attention.
She got my attention right away. I couldn't help notice her, she was muy voluptuosa.
When she finally caught "ol" Chente's eye, he came over to accept the rose. Then she grabbed him and gave him a huge kiss.
That mamacita put a gleam in Chente's eye that I could see shine all the way up to where I was sitting.
Regresando al tema (getting back to the topic).
Here's what to say when you like someone but don't fancy them.
Me cae bien Vicente Fernández.
I like Vicente Fernandez.
Me cae bien is a very common way to say you like someone. It's perfectly understood; it's used all over the Spanish-speaking world and it will keep you safe from Jose Luis's eyebrows.
En conclusión.
Sí, me cae bien Chente.
Yes, I like Chente.
Me gusta escuchar su música.
I like to listen to his music.
Me gusta como canta.
I like how he sings.
Y me gusta la chica que le dio un beso a Vicente en el concierto.
And I fancy the girl who gave a kiss to Vicente in the concert.
Solo estoy bromeando (I'm just joking)
It's great to add common expressions like me cae bien to your Spanish repertoire and know the deeper meaning of everyday phrases like me gusta.
Many Spanish words have additional meanings just like English words do. These secondary meanings are so common that Spanish Ear Training Master Classes #2, #3, and #4 are dedicated to that very tema (topic).